Uluwatu Tours
Tour start  : 09.00 am
Price             : USD 40 /Car
Duration     : 10 Hours
Included    : Comfortable car, Fuel, Car parking fee, Mineral Water, Sarong and English speaking driver.
Excluded   : Your Meal and Entrance ticket (price are mention in the list bellow).
Note             : Tour more then 10 hours additional USD 4 /hour will applied
Places of interest will be visited during this tour :
Watersport Bali
Enjoy The Exciting Bali Water Sports Tour program such as: Snorkeling, Parasailing, Jet Ski, Donut Boat, Water Ski, Flying Fish, Banana Boat, Wakeboarding, Glass Bottom Boat, Ocean Walker, Diving and Turtle Islands Tour With Competitive Rates. To keep guest comfortable all Bali Water Sports Tour activities are ensured by high quality safety equipment and medical insurance. Just enjoy the exciting Bali Water Sports activities of your choice.
Padang – Padang Beach
Located at Jalan Labuan Sait, in the village of Pecatu, Bali. Located not too far from the tourist area of ​​Uluwatu Temple and one of place will be visit on Uluwatu Tours. To get to this beach, we had to descend the stairs are made in the cliffs. After a few yards down the stairs we are greeted by the sun. It turns a dark alley behind the beach there is incredible beauty. The waves that roll, rock-breaking waves, and the sky is captivating. White sandy beach stretching ahead of you, clear blue water and flat, perfect for swimming. If you enjoy the sunset at the beach with a few other visitors around you it will feel like a private beach. 

Uluwatu Temple
Uluwatu Temple sits on a 70-meter-high cliff protruding above Indonesian Ocean. The main site of Uluwatu Tours is visiting this temple. There are hundreds of monkeys roaming along the path outside the temple. A small forest lies at the front and hundreds of monkeys dwell here. They are believed to guard the temple from bad influences. The serpentine pathway to the temple is fortified by concrete walls on the cliff side. It takes about an hour to get from one end to another as there are several fenced points along the way to stop. The views from the bottom of the water surging up against rocks and the ocean horizon are remarkable.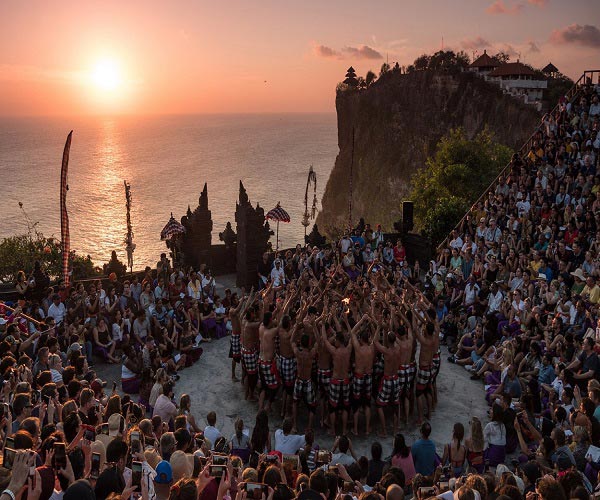 Kecak and Fire Dance
Kecak and Fire Dance is a spectacular traditional dance tell story about fragment from the Ramayana, the Hindu epic which finds its expression in many forms was held near of Uluwatu Temple. We will watch this dance during Uluwatu Tours. Kecak dance is that the accompanying music is provided by the human voice, the gamelan suara, a choir of a hundred men or more sitting in concentric circles, swaying, standing up, lying prone as the story develops. Amongst the swaying masses the voices of the storytellers can be heard telling the unfolding tale. the music generated from a combination sounds of members cak which were about 50-70 people all of them will make music in akapela.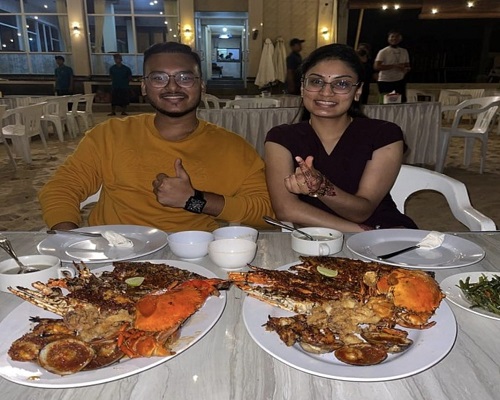 Seafood Dinner at Jimbaran Bay
Jimbaran Bay Beach was always just a small fishing village and beautiful beach located in the southern part of Bali with white sand unfolding along the coastal. Great places for having dinner after do Uluwatu Tours. There are plenty of cafes offer delicious of seafood dinner with breathtaking view of Indian Ocean. Is a perfect places to having fresh seafood dinner after do so some trip to Uluwatu temple. It is served right on the beach with beautiful table set up apposite to the ocean. Is a romantic dinner moment with great view on the beach.
Tour Condition :
Above Tour Price are applicable for pick up at hotel/villa in main tourist area such as: Kuta,Seminyak, Legian,Jimbaran, Nusa Dua, Sanur, Denpasara and Canggu
* extra charge USD 4 /car for hotel in Ubud area
Please pay the driver in cash, once your trip has been finished.
We are able to personalize the above itinerary as long as it is in the same direction.
If you wish to cancel your tour, please let us know 24 hours in advance and free cancellation .
Our vehicles are Toyota Avanza or Suzuki Apv which is comfortable up to 5 persons.