Bali Ubud Tours
Tour start  : 09.00 am
Price             : USD 40 /Car
Duration     : 10 Hours
Included    : Comfortable car, Fuel, Mineral Water, Sarong, Car parking fee and English speaking driver.
Excluded   : Your Meal and Entrance ticket ( price are mention in the list bellow).
Note             : Tour More then 10 hours additional USD 4 /hour will applied.
Places of interest will be visited during this tour: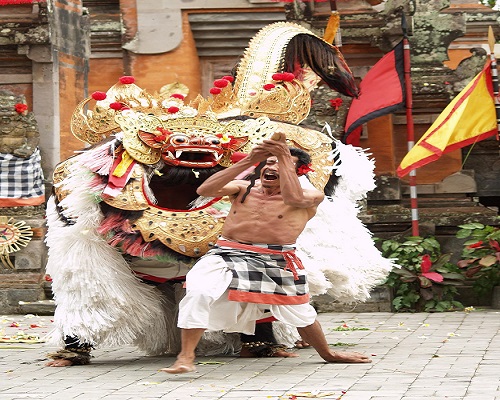 Barong Dance Performance
Barong and Kris dance like the kecak dance the Barong and Kris dance is a battle between good and evil spirit. Barong can take various forms but in this dance he takes the form of the dance Barong Keket, the most holy of the Barongs. The Barong Keket is a strange creature, half shaggy dog, half lion and is played by two men in much the same way as a circus clown-horse. His opponent is the witch Rangda.Barong Dance is one of the distinctive arts community of Bali, where Barong it self is symbolic of goodness with shape like a lion. in Barong dance it tells the story about battle between Barong and Rangda.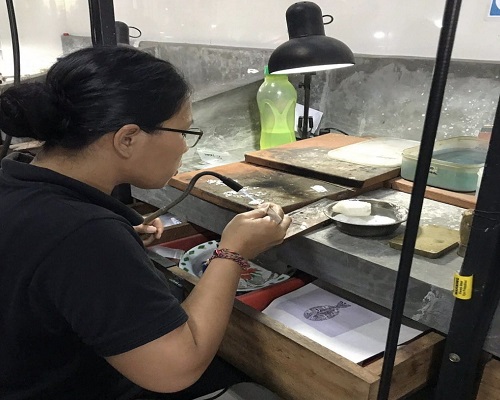 Celuk Village for Gold and Silver Art
Celuk Village is a traditional village for the incredible gold and silver handicrafts which are available around this area for very low prices. In the past, the dwellers of Celuk Village were mostly farmers. Rumors have it that there were only three families who belonged to the caste of Pande that pioneered this industry. This caste is well-known for their specialty in manipulating all kinds of metals to create accessories for Hindu's prayers. As tourism was becoming main commodity in Bali, more and more villagers left their farm behind and began to learn to craft silver and gold. Specifically, in 1976, almost all of the villagers had become silver smiths.. 

Batuan Village for Painting Art
For over a thousand years Batuan has been a village of Balinese Painting Artwork and Bali handicrafts. Batuan village wasn't influenced by the western as they were in Ubud. The Batuan paintings were often dark, crowded representations of either legendary scenes or themes from daily life, freakish animal monsters, and witches accosted people. The Batuan Village paintings were gradations of black to white ink washes laid over most of the surface, so as to create an atmosphere of darkness and gloom. In the later years, the designs covered the entire space, which often contributed to the crowded nature of these Balinese paintings.

Batuan Temple
Batuan Temple is a local Balinese Hindu temple looked after by the local resident of Batuan countryside. The temple is designed very beautiful with full of Balinese ornaments and the roof temple building is made from the fiber of chromatic black palm tree.Local people are very concern about the care and preservation of the temple architecture and its environment. Not all existing buildings were old buildings here, there are some that have undergone renovation, renewal, and change from 10th century to 13th century and also 18th century AD. The structure and foundation of this temple are very tough and strong.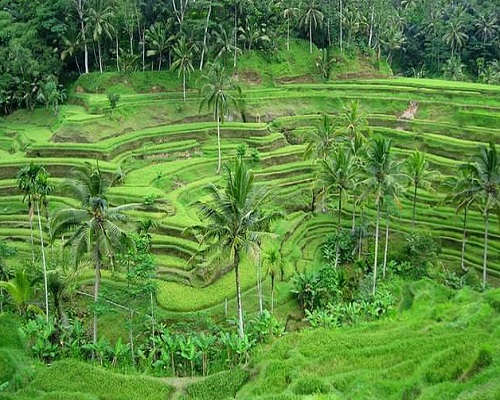 Tegallalang Rice Terrace
Tegallalang Rice Terrace is famous tourist attraction for beautiful rice terraces, many tourists who travel to and from Kintamani stopped at this place to witness the beauty of the verdant terraced rice field scenery or having lunch at the restaurant while enjoying the beautiful scenery of terraced rice fields. Tegalalang Rice Terrace is one of the tourist icon in Ubud Bali. The rice terrace is designed very beautiful with exquisite hollowing rice field and precisely located on the hill bank. In this place, you will see the Balinese farmer do their rice field in oblique area complete with its system irrigation.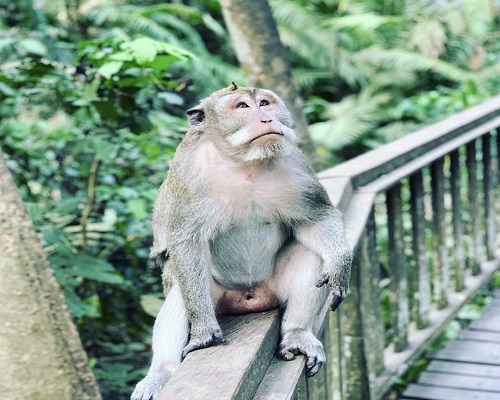 Ubud Monkey Forest
Ubud Monkey Forest is a small rain forest dwelt by some group of monkeys and other tropical animals. It is strategically located in the hearth of Ubud Village. Monkey Forests in Balinese language called Wanara Wana are spread out in the island and Ubud Monkey Forest itself own very important function of the continuity the monkey habitat in Bali. Meanwhile the local community own important role to keep this forest naturally in order to all wild animals able to live smoothly. Wanara Wana is the name of monkey forest in Sanskrit language. It is important to treat the monkeys with respect as this forest is heir home and you are a guest in it.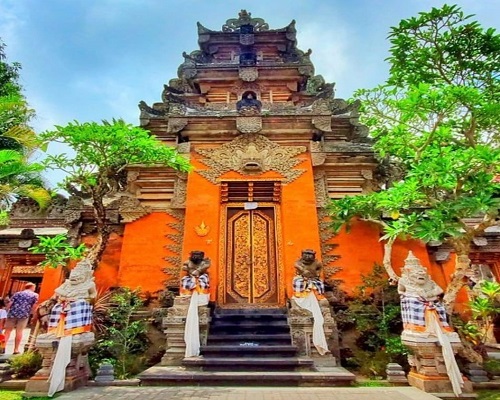 Ubud Royal Palace
Ubud Royal Palace is an Ubud Kingdom Palace with beautiful Balinese traditional houses as a residence of Ubud King. It is set in the center of Ubud Bali with traditional art market just in front of it and it is found by Ida Tjokorda Putu Kandel who has commanded from year 1800 – 1823. This palace is an artistic cultural life center, while the traditional market is the symbol of local economics resident. The existence of Puri Saren as a palace is equipped by a Wantilan/auditorium that is a large building of meeting room and a banyan tree as shelter place at the daytime. Ubud has been a "royal town" for over a hundred years.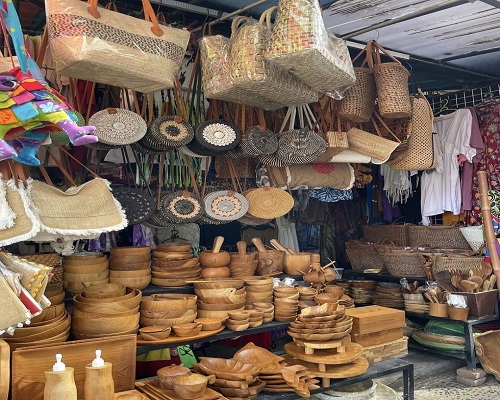 Ubud Market
Ubud Market is a traditional art market in the center of Ubud village, where the existence is not far different from other markets available in the tourism area. Ubud Market as a society economics center of Ubud and it is apposite to the existence of Ubud Empire that is called Puri Saren. The market is unfolding from west to easterly divided become two group with different purpose. There are two markets available at the same area those are one block at the Website is for a traditional artistic market and another block located in the east as an everyday traditional fundamental market requirement.
Tour Condition :
Above Tour Price are applicable for pick up at hotel/villa in main tourist area such as: Kuta,Seminyak, Legian,Jimbaran, Nusa Dua, Sanur, Denpasar,Canggu and Ubud.
Please pay the driver in cash, once your trip has been finished.
We are able to personalize the above itinerary as long as it is in the same direction.
If you wish to cancel your tour, please let us know 24 hours in advance and free cancellation .
Our vehicles are Toyota Avanza or Suzuki Apv which is comfortable up to 5 persons.